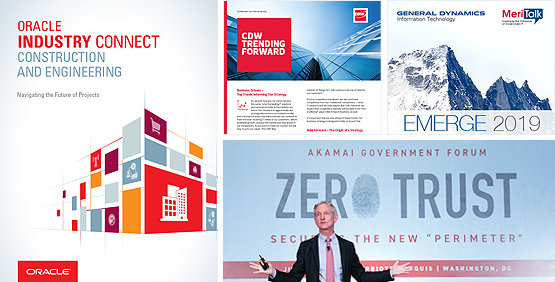 Above

the Competition


&

Beyond

Boundaries
300Brand companies bring together the biggest and most innovative brands in technology.
From tech blue chips to government agencies to market disruptors, we help clients create their stories and reach their target audiences.
300Brand Timeline
1997

O'Keeffe & Company founded and featured in WBJ article

1997

First client, IMI, chooses O'Keeffe & Company

1998

O'Keeffe & Company wins first national account, Candle Corporation

2002

Department of Homeland Security hires O'Keeffe & Company to manage cyber communications

2002

PRSourceCode launch – editorial opportunity tracking service for competitors

2004

CDW hires O'Keeffe & Company to manage government PR

2005

Telework Exchange launch – 32,000 Federal employees sign up on the Telework Cost Savings Calculator

2005

GovMark Council launch

2005

O'Keeffe & Company founds in-house creative department – becomes full-service marketing shop

2007

O'Keeffe & Company begins partnership with USO-Metro

2007

O'Keeffe & Company turns 10 with the Perfect 10, Bo Derrick

2008

MeriTalk, the first government IT digital media platform, founded

2008

O'Keeffe & Company turns 11 – goes to the moon with Buzz Aldrin

2008

CDW hires O'Keeffe & Company as corporate PR agency of record

2008

Oracle hires O'Keeffe & Company as corporate industries agency of record

2009

O'Keeffe & Company turns 12 – 12 rounds with Smoking Joe

2010

O'Keeffe & Company turns 13 – make your own luck – John Riggins

2011

O'Keeffe & Company turns 14 – if 7 is lucky, 14 is twice as nice – gives away AC Shelby Cobra

2012

300Brand and 11mark launch

2012

EMC selects 11mark as its government marketing agency

2012

Telework Exchange closes – Federal employees now telworking

2013

O'Keeffe & Company's Sweet 16 – 16 candles with Molly Ringwald

2014

O'Keeffe & Company celebrates 17 years with Beatles cover band

2016

MeriTalk rolls out state and local platform – MeriTalk SLG

2017

300Brand launches first cricket match to celebrate 20 years

2018

Congressman Gerry Connolly and MeriTalk launch FITARA Awards & Forum

2018

MeriTalk SLG circulation climbs to 175,000

2019

2019

Creates the Happiness Index with Government Marketing University

2019

MeriTalk circulation climbs to 160,000+

2019

Partners with Intelvative on Cyber Smoke

2020

Start of Pandemic - 300Brand moves to flexible remote work

2020

CIO Crossroads - Integrated program showcasing agencies' untold stories, lessons from COVID-19 pandemic

2021

MeriTV launches - MeriTalk's industry-leading video platform

2021

UniversIT launches - MeriTalk's online library of government IT training courses

2021

MeriTalk launches first interactive infographic - Migration to Transformation - with AWS

2021

Return to in-person events - MeriTalk holds first in-person event since pandemic, Cyber Smoke

2021

MerITocracy report launches - Exploring policy, technology, and restoring trust in government

2022

MeriTalk selected as RSA Conference's exclusive research partner - launches Reimagining Public-Private Partnerships

2022

Inaugural MerITocracy: American Innovation Forum
The People Who Make It All Work: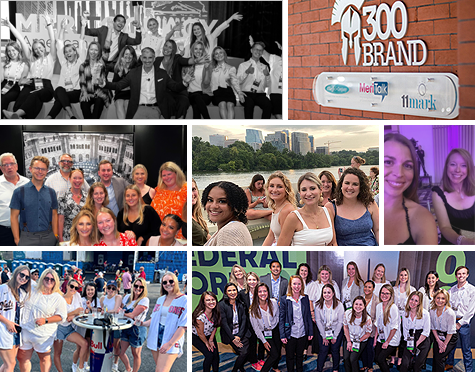 Leadership:
Caroline Boyd is a Principal at 300Brand with over 30 years of blood, sweat, and tears in government IT marketing, communications, and policy development. Having served as a senior technology leader in government, Caroline understands what makes government executives tick. She leads government participation across MeriTalk programs and guides client-focused events. In her spare time, she raises three hellions, foxhunts, and reads voraciously.

Jamie Burdette leads the development and digital services teams with more than 20 years of experience in the implementation of internet technologies, websites, and web applications. He has managed the development for a wide array of sites including e-commerce applications, intranets, extranets, CMS solutions, and business process applications across dozens of industries. Jamie spends his free time on the golf course, working on home projects, and reading history.

Nicole joined the 300Brand family of companies in 1997 and helped to build the organization since its founding, supporting clients including Dell EMC, Citrix, Red Hat, RSA, Okta, ServiceNow, and Zscaler. She has led 11mark since its launch in 2011 and today provides counsel and manages award-winning marketing, PR, and creative campaigns for tech leaders in government and healthcare. She enjoys bringing the pieces together to support client growth goals – the whole is always greater than the sum of its parts. Nicole is a frequent writer and speaker on all topics enterprise tech – data center, cyber, cloud, IoT, AI, and more. Recognitions include a PRSA Silver Anvil, the Bulldog PR Awards, and a Gold Stevie Award for Women in Business. When not working, you can find Nicole cheering on her kids, exploring museums, and making quick trips to the Jersey shore.

Lacy Cooper is a Principal at 300Brand, leading internal operations and business development, as well as marketing and communications programs for government's top technology partners. A solutions-focused leader, Lacy isn't afraid to dive headfirst into her clients' most complex challenges, uncovering new possibilities and reframing thinking to accelerate government IT modernization. She prides herself in creativity and refuses to settle for anything less than extraordinary outcomes. Outside of work, Lacy enjoys experimenting with new recipes (not always a success), singing in the car, and spending time outdoors with her husband and two boys.

John Curran is the executive editor for 300Brand's news publication, MeriTalk, where he leads an award-winning editorial team reporting on the intersection of government and technology. He has over 37 years of editorial experience in Washington, DC, including stints at Dow Jones, Reuters, Telecom Reports, and more. Outside of work, John stays more than busy spending time with family, tending to the garden, playing and singing in bands, venturing in the woods looking for lost history, and enjoying all the moments in between.

Gail Repsher Emery is director of content with 300Brand. She leads a team of writers who translate complex technology and business topics into compelling marketing and communications materials for top technology brands. Gail also manages MeriTV, our industry-leading streaming platform. A former journalist and always an editor, Gail is passionate about storytelling, structure, accuracy, and inspiring client delight. Outside of work, she enjoys traveling, watching baseball, and the beach.

Emily Garber is an account director with 300Brand, where she leads events and marketing programs for some of government IT's top companies. Emily has over 10 years of experience in marketing, communications, and event management, and holds a master's degree in PR and corporate communications from Georgetown University. Emily's knack for organization and attention to detail means no element is overlooked when it comes to her client events. Outside of work, Emily enjoys trying new restaurants and spending time outdoors with her husband and young son.

Manuel Hernandez is an associate creative director with 300Brand. He brings 16+ years of design experience, ranging from graphics to video and audio production. With a passion for work that is both strategic and creative, he focuses on converting ideas into thoughtful strategies. When he's not focused on design and development, you can find him online looking for the next destination to travel.

Brittany Johnston is the research director for 300Brand, where she's developed and managed disruptive research programs for more than 10 years. Brittany is our resident data detective; she enjoys partnering with Federal IT marketers to explore new technologies, test brand perceptions, uncover market challenges, and synthesize the stories our government customers are trying to tell us. In her spare time, Brittany always has a camera in hand – chasing the golden hour and directing Pinterest-worthy moments while her husband and two kids roll their eyes.

Steve O'Keeffe is principal and founder of 300Brand, a strategic holding company serving the government, IT, and healthcare industries. A 20-year veteran of the government IT community, Steve has worked in government and industry and has contributed to The Washington Post and The Economist. Today, Steve is a fixture as an expert witness on Capitol Hill, testifying on government IT and workforce issues in both House and Senate hearings. In addition to 300Brand, he founded GovMark Council, MeriTalk, and O'Keeffe & Company. Steve is a member of the USO-Metro board. A petrol-head, Steve's always in the fast lane.

Susan O'Neil manages all of the accounting and financial reporting functions for the firm and related entities. A seasoned finance and accounting professional with over 25 years of experience across a broad range of industries, Susan is highly skilled in all aspects of accounting operations, human resources, financial statement preparation, cash management, and regulatory and tax compliance. She holds a master's degree in accounting from Florida Atlantic University. Outside of work, Susan enjoys volunteering for various charitable organizations, watching her USC Trojans play football, baking with her daughter and spending time outdoors with her family and dog.

Logan Prescott is an account director with 300Brand, where she leads public relations, media relations, marketing, and content development programs. Logan is passionate about developing creative ways to get a company's story into the media spotlight. Outside of the office, she is unwinding in the kitchen with a new recipe, at the yoga studio, or planning her next travel destination.

Rashi Ratan is an account director with 300Brand, where she leads public relations and marketing programs for top technology companies. With extensive experience in corporate communications, media relations and marketing, Rashi is a results-driven professional dedicated to helping companies elevate their brand and share their stories. When she is not working, Rashi enjoys reading, cooking, cheering for the New England Patriots, and spending time with her husband and two young daughters.